Knowing the scale, especially length is crucial when it comes to woodworking, interior designing, construction, craft, and carpentry, etc. And yet, some will panic when using a tape measure because they don't know how to read the scale on the tool.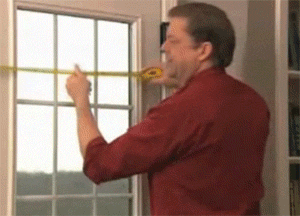 How to read a tape measure?
Typically, the scale of a tape measure consists of inches and centimeters (metric). Knowing the scales and different units is key in terms of how to read a tape measure. On most tapes, the inch scale is at on top, and the metric-scale is at the bottom. To read the inches scale, the first thing you need to know is that you need to split them up into small divisions. The smallest mark represents 1/32 of an inch. And it goes all the way up to 1/16 inch, 1/8 inch, 1/4 inch, 1/2 inch, 1 inch and finally 1 foot. The lines go from smaller to bigger as well. If you can, try to remember the lines because it can help you find each measurement quickly.
You can also find smaller red markings after 1 foot which basically saying 1 foot 1 inch and 1 foot 2 inches and so on.
For metric scale, each centimeter has 10 divisions that represent millimeters. And every 10 centimeters are marked by red color which will help users to locate the measurement more easily.
16-inches mark
A tape measure usually has a special mark every 16 inches (32 inches, 48 inches…etc.) because the wall studs are typically 16 inches apart from each other. This special mark will make it more convenient to mark off wall studs. However, if you are not dealing with wall studs or joists, you can ignore this mark.
In most tape measures, one can find small black diamonds on the inch scale of the tape at 19.2 inches. And these marks will appear again for every 19.2 inches. In other words, the first black diamond is at 19.2" and after that, they appear at 38.4", 57.6", 76.8" and 96", or 8-feet. They are for truss layouts for 8-foot sheet goods, therefore they are also known as the "black truss" markings, which provide a quick visual for the tape user and speed up the measuring process.
If you divide 5 into 96 inches (8 feet) gives 19.2 inches, which yields five trusses per sheet. The black diamonds on the tape measure represent that spacing.